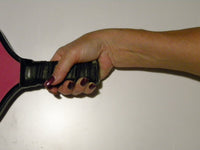 Typical Paddle Gripping
In this photo you can see an example of the torsional wrist motion often used when hitting underhand or overhead shots. Prolonged use of this action can be hard on wrist and elbow joints as well as your forearm muscles. It can also limit your shot selection opportunities depending on style and level of play.
Intro Video to PBZ Paddles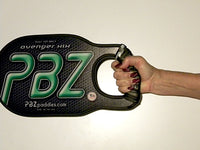 The Ergonomic Advantage
As you can see by comparison, PBZpaddles' patented Ergonomic design minimizes this wrist torsional flexing and allows power to transfer from your entire arm and upper body directly to the ball. This motion also allows some shot-making possibilities to open up as you become more confident in its action.
Material Compositions
PBZpaddles uses some of the highest quality materials available. Our paddles are made from three separate honeycomb-core and facing combinations; Kevlar/Carbon Fiber, Aluminum/Fiberglass and Polyethylene/Poly Chopped Fiber. Select any of our paddles listed for a description of each paddle's individual material make-up.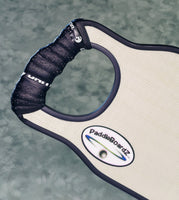 Gun-grip handle shape
Most PBZ models come with the ergonomic "Gun Grip" style (shown here) for added comfort and firmer feel. However, some models do have an available "Straight Grip" option which results in a smaller diameter gripping handle. If you have a preference, please select it from the drop down menu while placing your order.
PBZpaddles uses various GAMMA grip wraps.
Testimonials
"The other players that I play against in the Dallas/Fort Worth area are freaking out about the design. They also tell me that it's more difficult to read the shot with this paddle as opposed to the conventional model. I cannot thank you enough for coming up with this design. It has made my game much more enjoyable.

Malcolm
Hello, Just wanted to let you know that I ordered the Avenger a few months ago after having struggled with tennis elbow and having to quit pickleball for a period of time. During my recovery I did some internet research and found the Avenger. I came back after healing to try the Avenger and I love the results. I would say I am still working the learning curve of this paddle, but have not experienced a single issue with the elbow since. I am so satisfied with it that I just ordered the Avenger CF today, as I plan to make these my paddles of choice going forward. Though, I have been playing for only a year and a half, I am addicted to this sport and really appreciate that you have developed this wonderful alternative to the "standard" paddle. Thanks.

Ron
I have been playing with the Prowler for the past year and LOVE it...My elbow had been killing me with the popsicle stick paddle (Especially the longer reach ones). I think hitting towards the top of the longer paddle put extra stress on the elbow!? I am thinking about getting another model paddle from you guys."

Tracy
Contact Us
For information on our unique, US Patented paddle designs or our PBZ Paddle Demonstration Program, contact us at PBZpaddles@gmail.com